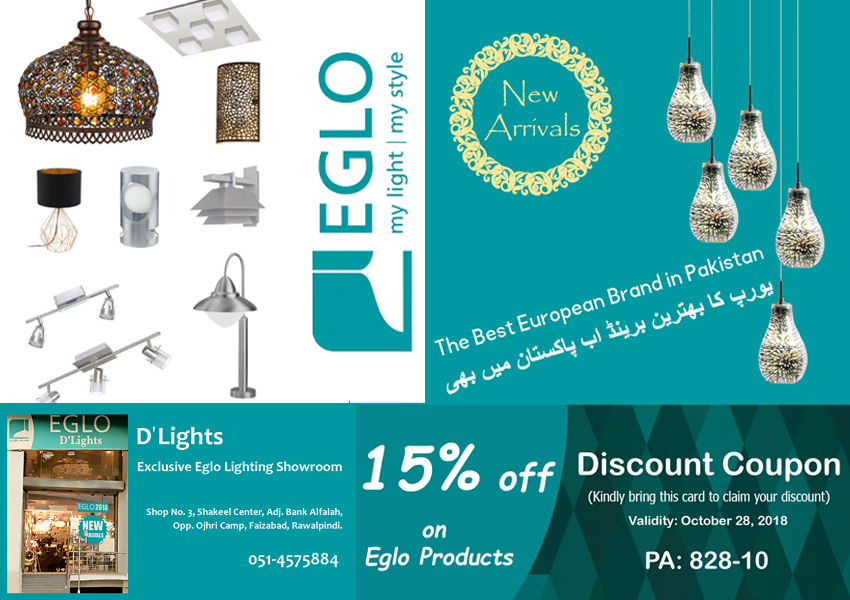 The best is here with 15% discount offer!!!
Yesssss… Now, you can get the most elegant lighting to pamper your style with 15% off on all Eglo Products. Eglo, while designing new lights we have our finger firmly on the market's pulse: Our subsidiaries worldwide constantly provide us with suggestions and ideas for new products.
These suggestions are evaluated by our development team, joined with our own ideas and finally developed to become a marketable product in collaboration with selected designers.
You can avail this offer by requesting a discount coupon through Email or call directly to any of our representatives for getting your discount coupon.
Aqeel Abbas: 03018501462
Shahzad Khalid: 03018509233
This is a Limited Time Offer. So, hurry up! don't waste a second.
Contact us via: http://www.eglo.pk/contact-us/ or email us directly at: support@eglo.pk
For product details, visit our webiste: http://www.eglo.pk/
*15% off on all Eglo Products is available only at D'Lights Eglo Showroom